The 55th CESASC Annual Convention will be held on April 15, 2017 in Universal City, California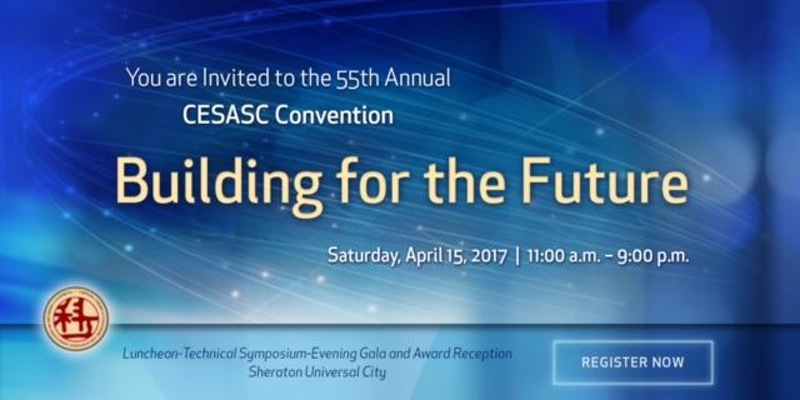 CESASC, Chinese-American Engineers and Scientists Association of Southern California Announces 55th Annual Convention Dates and Location
Top Science and Engineering Professionals to Discuss "Building for the Future"
To register, please visit: https://cesasc55thannualconvention.eventbrite.com.
Sponsorship Package: Please click here for more information 
Los Angeles, Calif., January 5, 2017-CESASC—The Chinese-American Engineers and Scientists Association of Southern California has announced that the Annual Convention will be held on April 15, 2017 in Universal City, California.  The 55th Annual CESASC Convention will bring leaders and top science and engineering professionals together for the annual luncheon, technical symposium and evening gala and award reception on April 15, 2017 at the Sheraton Universal Hotel.
This year's theme is "Building for the Future".  
CESASC is taking early registration for discounted rates, with a deadline for early bird registration of March 15, 2017. 
"We are looking forward to this 55th Anniversary Convention as one of the premier CESASC events in history" indicated Lan Saadatnejadi, President. "We are bringing the most brilliant minds in science and engineering together with top award winners, STEM students and leaders who truly are "Building for the Future". 
Confirmed speakers to date include:  
Phil Washington, CEO, Los Angeles Metro  
Dr. Yiluo Li, Young Achievement Award  
Dr. Wilson Ho, Achievement Award
Invited speakers include: Dr. Lee-Lueng Fu, Achievement Award; Gavin Newsom, Lieutenant Governor; John Chiang, California State Treasurer; Anthony Rendon, Speaker of Assembly;  Elon Musk, CEO, SpaceX and  Mark Zuckerberg, Chairman and CEO, Facebook.
Tentative Agenda and Programs Include:
Luncheon and  Keynote Speech 
LEAP (Leadership, Excellence, Aspiration, and Platform) Career Development Forum
Technical Symposium - Afternoon, 2 topics, led by top scientists
STEM, LEAP and business innovation programs for young professionals
Social Networking with members, speakers and awardees
Evening Gala Dinner and Awards - Keynote Speech and Distinguished Achievement Award ceremony to recognize leaders
Important Deadlines:
About CESASC
Founded in 1962, CESASC is a non-profit organization dedicated to excellence in science and engineering.  CESASC's mission is to promote and advocate the best interests, aspirations and professional excellence of Chinese American engineers and scientists (and all engineers and scientist).   In 2011 CESASC was honored with the Excellence in Science and Engineering Leadership Award by the Chinese American Museum at the History Maker's Awards Ceremony. Award recipients include Nobel Laureates, members of US National Academies of Sciences and Engineering, Institute of Medicine, Corporate and University executives, members of Committee 100 and public officials.